Smart Fitting Room

EllaFittingRoom is a smart fitting room that works together with EllaFashion digital price tags. It helps customers to try and buy more and can be combined with efficient anti-theft features.
EllaFittingRoom Solution makes the customer's shopping experience more pleasant than ever, while it is easy to call for assistance and ask for another size, color or different garments via tablet.
The system keeps continuous count of garments (i.e. EllaFashion digital price tags) arriving and leaving the smart fitting room. This is to silently notify of possible unusual behavior, like too many of the same items. The efficient anti-theft system leads to minimum shrinkage.
Increase Cross Sales With the Smart Fitting Room
Order different size, colour or product to Fitting Room via touch screen. The request arrives at shop assistant's mobile.
Product related information
Responsive and accurate customer service
Cross sales promotions shown on screen
Connected to the inventory system
Get analysis data and reports easily to guide the business
With anti-theft feature, 40% less shrinkage.
Increase your profit up to 25%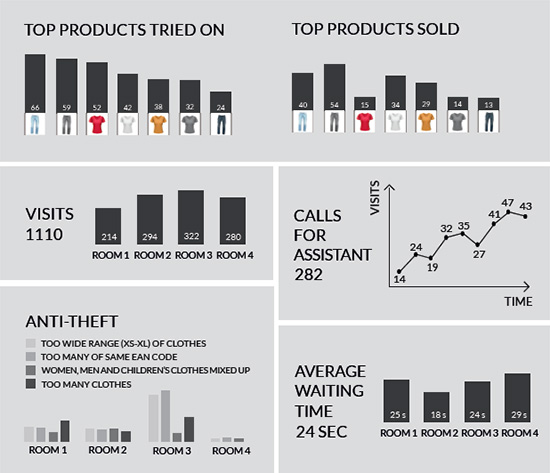 Smart Fitting Room Anti-theft: How it Works
EllaFittingRoom system calculates continuously the clothes (digital price tags provided with attachable anti-theft) arriving and leaving the smart fitting room. It reports all kinds of unusual behavior like:
too many of the same products
mixture of women's, men's and children's clothes
too large size range tried on clothes from XS to XL sizes
a great amount of clothes brought to the smart fitting room
When needed, a silent alarm is sent to the shop assistant's mobile. The digital price tag also alerts like a regular anti-theft alarm at the gate besides the doors.
EllaFittingRoom is the most efficient retail anti-theft system leading to minimum shrinkage.
Digital price tags and smart fitting rooms by MariElla Labels
EllaFashion Solution is a dynamic pricing system consisting of digital price tags, two-way radio equipment and controller software. Please contact us to make it part of your business.