Helsinki fashion store Björkqvist has completed the installation of an electronic pricing solution from local technology company MariElla Labels Oy. The digital price tags, which are built using e-paper technology, display prices electronically and can be altered remotely with the click of a button. Björkqvist can trigger seasonal pricing, happy hour and flash sales both in-store and online.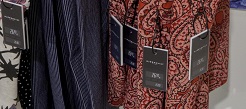 Staff no longer have to spend their time manually changing price labels, and can instead concentrate on enhancing the overall customer experience in-store. The digital price tag solution is also supported by a real-time inventory system, providing high levels of accuracy.
Markus Björkqvist, owner of Björkqvist, commented: "We were looking for a completely new, dynamic retail solution that could streamline our operations as a retailer and replace our old-fashioned paper tags. Not only was the implementation of the EllaFashion solution into our store seamless, but employees also required minimal training as the system is so simple to use.
"This new, electronic pricing solution has reduced the number of price discrepancies and has sped up the price-changing process – completely revolutionising the retail experience for customers for the better."
http://www.retail-systems.com/rs/Bjorkqvist_Installs_Electronic_Labels.php