Realising a number of benefits through the use of integrated technology solutions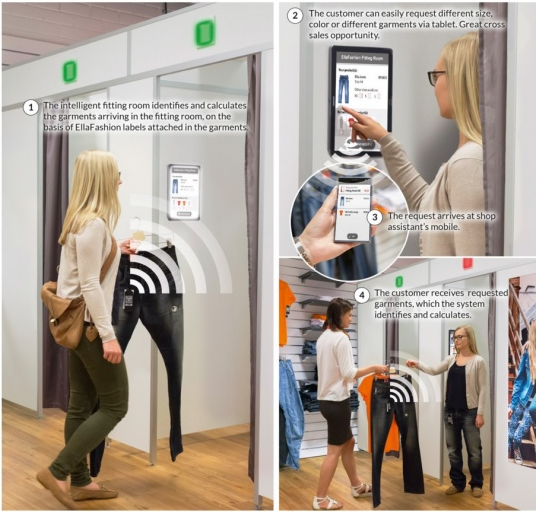 EllaFashion has launched its EllaFittingRoom system – a smart technology that the company claims revolutionises the way customers and staff use changing room facilities in fashion stores.
The system integrates touch screen displays into each individual fitting room which can be used to perform a variety of useful functions. Upon entering the fitting room, customers will be able to use the screen to call for an assistant if they require; choose different sizes and colours or check on product availability; view suggested related items based on their shop so far; and access additional information about the brand, its loyalty programmes and any details on personalised offers.
The system, in essence, provides customers with the convenience of a personal shop assistant at the touch of a button. Alongside enhancing the customer's shopping experience, it also frees staff time that can be channelled towards more productive work tasks that can drive sales and improve a store's operational efficiency.
EllaFittingRoom works exclusively in conjunction with the EllaFashion electronic price tag solution for apparel – digital labels built with e-paper technology that enable forward-looking fashion retailers to become more profitable by adding a more digital focus to their physical stores.
Through the use of these integrated technology solutions, businesses feel a number of benefits. Because the EllaFashion tags and EllaFittingRoom are connected to a retailer's inventory, it enables them to track the best and worst performing products based on fitting room behaviour and investigate the reasons for this being the case.
They can see what is tried on, what is tried on but not bought, and the frequency with which a SKU is returned or exchanged. From here, retailers can discover patterns that might indicate there is something fundamentally unpopular about the product, e.g. incorrect sizing or material flaws.
Retailers have the opportunity to implement their own branding into a bespoke user interface, meaning no two EllaFittingRoom applications are the same – ensuring the differentiation between fashion retailers is retained.
In addition, the EllaFittingRoom system features sophisticated anti-theft functionality. It is programmed to calculate and report unusual behaviour that might occur in the fitting room, such as someone entering with a large quantity of the same product or with a large size range of a particular product – such as XS up to XL. Similarly, it detects whether a mixture of men's, women's and children's clothes have been brought into the fitting room and alerts a member of staff accordingly.
"The nuances of a customer's experience can be a defining factor in establishing a positive brand reputation for fashion retailers," said Minna Nurmisalo, Project & Marketing Manager at EllaFashion. "That is why we are delighted to add the EllaFittingRoom innovation to our portfolio. It makes customer service faster, easier and more accurate – allowing the customer to take that extra level of control in how they choose to shop. But not only that, it is a genuinely useful business tool in the context of how it optimises staff time and inventory management, and in how it can help retailers make more informed strategic decisions."