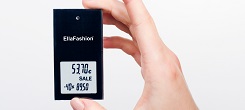 Are you a professional and competent software engineer with plenty of experience on server-side Java? Do you have an eye for solid software architecture and experience on making it scalable? Are you familiar with the latest trends in front-end web development? Is it your goal to create things that you can be proud of? If you recognize yourself you are the one we're looking for.
Your mission is to
Design and develop a Java-based server application.
Design and develop a web front-end (SPA) for the system.
Work in a small multinational team.
Contact directly with customers.
We value from you
Strong back-end development skills with Java.
Experience in front-end development with JavaScript.
Familiarity with SQL databases.
Experience on Linux.
The passion for developing something new and revolutionary.
Excellent team work and communication skills.
Fluency in English.
Understanding of the theoretical background of computer science.
Suitable educational background.
Experience in embedded software development and electronics and any domain knowledge in fashion or retail business is also an advantage.
We offer you
The chance to revolutionise global fashion trade and create a fusion of traditional and online retailing.
An excellent opportunity to really ease people's life.
A lot of responsibility.
An opportunity to make an impact to our customers' end-to-end business processes.
A creative work environment happy to listen to your new ideas.
The feel and spirit of a start-up in a financially solid company.
If you think you could be the right one apply now or call for further questions Recruitment Consultant Ilpo Järvenpää at ICT Direct tel +358 50 548 5651. Please, apply as soon as possible because the position will be fulfilled when the right person is found.
MariElla Labels Ltd is part of the MariElectronics Group, which uses the latest state of the art technologies and is famous for its innovative solutions, produced by a team of 150. The company's offices and manufacturing facilities are located in the Helsinki metropolitan area.
http://www.ictdirect.fi/avoimet-tyopaikat/full-stack-software-engineer/